British soccer player David Beckham has been collecting tattoos for many years. We all first saw them during his years playing soccer with Machester United and now you can watch for them as he plays for Real Madrid, Spain. The debate over his ink comes in waves, taking a man's private symbology to the front pages of some of the most critical tabloids in the world.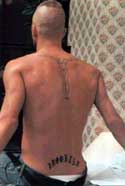 Beckham's collection began with the birth of his eldest son, Brooklyn. He had his son's name tattooed across his lower back. The second tattoo was what David called a guardian angel, a human figure with arms outstretched, tattooed across his shoulders and down his spine, looking down over the tattoo of Brooklyn's name. Tattoo session number seven saw the addition of wings to this figure and the addition of his second son's name, Romeo, just above the figure's head.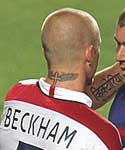 For his wife, former Spice Girl Posh, Beckham had his wife's proper name "Victoria" tattooed on the inside of his left forearm in Hindi. This tattoo raised one of the most common debates in getting a tattoo in a language that is not your own native one. Supposedly it is misspelled, containing an extra "h." This tattoo was also added to more recently. Under Victoria's name is now the Latin phrase "Ut Amem Et Foveam" which translates to "so that I love and cherish."
David Beckham's right forearm speaks more of his soccer career. The Roman numeral VII, for the number seven, is tattooed on the inside forearm. This was his number when he played for Manchester United and is still the number he wears for England. That tattoo was also added to when he had the addition to his left forearm in May 2004. Under the number is the Latin phrase "Perfectio In Spiritu" meaning "spiritual perfection."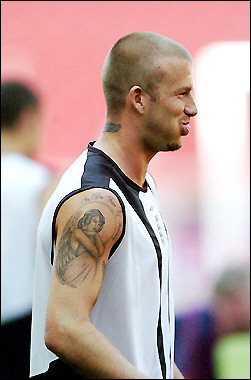 Another angel was added to his right shoulder and bicep more recently, when the Beckhams have been under a fairly constant attack from the media for a variety of allegations and perceptions about their marriage. With the angel is the text "In the face of adversity." It seems fair to say that Beckham is determined to stand by his own beliefs and his family despite the British press onslaught and this tattoo is supposedly symbolic of this.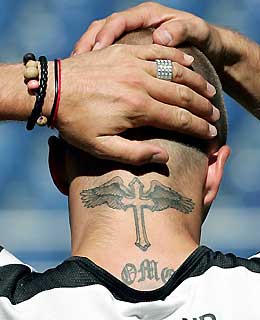 The latest piece of ink appears on the back of Beckham's neck and it may primarily be this placement that has outraged fans. Punks in the US in the early 80s heavily favored this spot, as it can't be covered by conventional clothing. With his currently shaved head, Beckham's new winged cross is very visible and has the press screaming that he looks like some sort of thug or skinhead.
All of Beckham's skin art has been done by Manchester tattooist Louis Malloy, one of the most prominent in the UK. Malloy has said he talks no more or less with his famous client about his art as he does any other customer, preferring to discuss the technical details of the design, allowing the client to keep their own motivations for the design private. Aside from Beckham paying for Malloy's airfare to Madrid to do the winged cross on his neck, Malloy has said he charges the same to David as he would any other customer.
The current tabloid debates include appropriateness of the designs, varied interpretations of what the designs "really mean" and the debate of Beckham's position as a team captain and sports figure. Given the repeated use of angel and cross imagery, it would seem that David Beckham's tattoos relate very strongly to his spiritual and private life. Whether a celebrity's private family and spiritual life can be dictated by the watching fans or world will remain to be seen. David Beckham seems to be content to continue walking his own path.