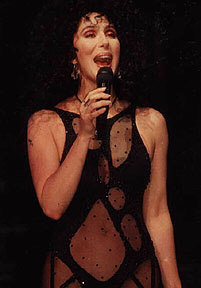 When I was in high school (early 1980s) and my internal urges to get tattooed had grown enough that I occasionally said something about it, not too infrequently the response from adults at the time was "A tattoo? What, you mean, like Cher?!" followed by lots of laughter. That made me sort of cranky, but at the time, if you mentioned women and tattoos at that time, that was what came to people's minds.
In her various incarnations as a singer and actress, Cher has gained a reputation as a woman who does what she wants, especially with her appearance. You could say she's explored a few varieties of body art over the decades. Her below-the-waist long hair utterly mesmerized my younger sister during "The Sonny & Cher Comedy Hour" tv shows. Her plastic surgery to modify her nose and her devoted pursuit of physical fitness can also be seen as forms of body art. However, she was one of the first high-profile performer/entertainers to get tattooed in the modern era.

Most certainly, the ink that Cher is best known for are the floral tattoos on her buttocks. The butterfly and flowers were tattooed by Bob Roberts of Sunset Tattoo in Los Angeles in 1972. Many of her concert outfits during the 80s left these tattoos visible, and a notable appearance on the David Letterman show in 1991 with former musical partner Sonny Bono became known for the fact that Mr. Letterman was faced with these flowers during their performance. Her music video for the song "If I Could Turn Back Time" featured a body stocking outfit made primarily of mesh that let anyone who'd missed the tattoos before take a good look.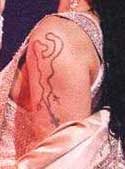 The next largest tattoo Cher has is a flowing necklace done on her left upper arm. The necklace has three charms hanging on it: an Egyptian ankh, a cross and a heart. This tattoo was supposedly done by Jill Jordan, another Los Angeles tattoo artist.

Cher also has a variety of smaller pieces tattooed on her. There is the
kanji
for strength on her right shoulder, a small cluster of Art Deco-like crystals on her inner right arm, a black orchid design just above the crease of her right thigh and a chrysanthemum on her left ankle.
At present, reports in the media have noted that Cher has said she is committed to having all of her tattoos removed and the process is underway. Picturs of Cher taken during her most recent concert tour show blank skin where some of the smaller tattoos once were. Laser removal can take a very long time and, given the complexity of some of her artwork, she is going to have to undergo repeated laser treatments for a few years. So if you have any interest in the tattoos of Cher, look now before they're all gone.