Johnny Depp has maintained his rebel status and his legitimate acting talent throughout his career. He began getting tattoos on his arms at the age of seventeen, marking points in his life that he deemed significant. He has continued collecting tattoos over the years, and now as he moves into his forties, his arms are full of various images. Rarely do actors who enjoy mainstream success also pursue such intense expression of visual individuality, as these often clash with the transformation into various characters for their work.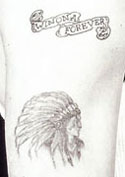 Depp's right upper arm includes images of a Cherokee Indian chief for his ancestral heritage and a banner reading "Wino Forever." Originally it read "Winona Forever" and was in honor of his relationship with actress Winona Ryder. However, it has been proven once again that tattoos frequently last longer than love. This tattoo was laser edited following his breakup with the actress.

His mother's name "Betty Sue" is inside a heart with some tribal flourishing on his left upper arm. Over this is an inverted triangle design. Over his heart in script is "Lily-Rose" for his daughter.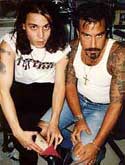 About half of Depp's tattoo collection have been done by NY tattooist Jonathan Shaw. You can see Shaw in Clint Eastwood's movie TIGHTROPE, playing a tattoo artist. Several of his tattoos are understandable and symbolic specific to Depp himself. On one ankle is a skull and crossbones with the phrase "death is certain." On his left hand, between the thumb and index finger, you can see the number three. He describes several small squares on his right index finger as a "permanent phone doodle." Depp has also spoken in the past of having had the habit of cutting, of making deliberate markings with a knife blade. His arms have some places where he made deliberate cuts himself as acts of body art.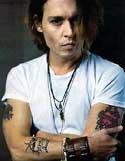 In the movie PIRATES OF THE CARIBBEAN, Depp played Captain Jack Sparrow. Costuming and smears of fake dirt were used to cover up Depp's tattoos during filming. His character had a tattoo, which was a fake for the movie, worn by Depp. He sported a sparrow tattoo on his forearm, along with a mark branded for pirating. After filming, he had his sparrow tattoo made permanent in honor of his young son Jack. He modified it slightly, flipping the sparrow around so that it is flying towards him instead of away from his body as it was in the movie.