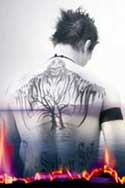 One of the more recent movies to feature a heavily tattooed lead character was THE SALTON SEA. Val Kilmer portrays Thom Van Allen, a jazz trumpeter who just happens to be in the wrong place at the wrong time. His wife is killed, with the only clue found being a red hair next to her body. His life falling apart from grief and the desire for revenge, Van Allen become Danny Parker, a secret police informant. By straddling this grey zone between law enforcement and lawlessness, he hopes to find the men who shot and killed his wife.
The crowd that Danny hangs with are all drug dealers and meth addicts, known as "tweakers." Staying up for days at a time, they embrace their place outside society, and their tattooing seems to reinforce this. In order to blend in, Danny has become rather heavily tattooed.

Many of the tweaker and dealer characters in THE SALTON SEA are tattooed. Danny Trejo and Josh Todd, who play Pooh-Bear's henchmen Little Bill and Big Bill, both wore their own skin ink. Trejo, who is a well known character actor, has tats from his youth and experiences in prison. Todd, who is the lead singer for the band Buckcherry, has full sleeves composed of various designs in typical American tattoo style.
The tattoos that cover Danny's body tell the story more clearly than he does, at least until you've seen the whole film. Wounded in the attack that killed his wife, Danny has a tattoo of the bullet wound on the front of his left shoulder with large red flames coming out of it. His full backpiece depicts the Grim Reaper, standing with outstretched arms over a landscape of the Salton Sea. In an interview with Sandra Benedetti for CINE LIVE in September 2002, Kilmer described the meanings behind Danny's tattoos: "The flames on his arms represent the fire which went out of his life when his wife was killed, and the image of death overpowering the sea on his back, it is a way of expressing his grief and depression since the death of his wife and the death of his love.... He got tattoos that illustrated his desire for vengeance which dominates him and so he will never forget during his entire lifetime what happened at the Salton Sea."
Val Kilmer does not have tattoos, and it was his idea that the character of Danny be tattooed, a concept that director D.J. Caruso accepted. So, Kilmer was bodypainted to appear tattooed. The designs were conceptualized by Kilmer, then created by a tattooist. British make-up artist Paul Englan painted the designs on Kilmer daily in sessions that lasted between three and three-and-a-half hours. In an interview about the film, Kilmer described the process as a special hell and said that having four artists dotting your back was like a form of Chinese water torture.