In director Guy Ritchie's SNATCH, Pitt plays the eccentric character Mickey O'Neil, a Gypsy with a talent for fighting. Sporting almost as intense a physique as in FIGHT CLUB, Brad Pitt is also covered with theatrical tattoos, with work on his arms, chest, abdomen and back. The style is rendered very realistically, being a mix of personal imagery and symbols rendered in a plain outline or fineline style.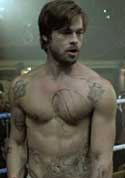 With the use of just blackish outlines and the random placement that often comes with Western style collecting, the tattoos in SNATCH are very realistic. People often complain that they can't distinctly make out what the images are, but it's this quality that adds to the realism. A closer inspection of the movie while paused on DVD will let you see a bulldog on an elbow, the Last Supper back piece, a snake and flowers on the stomach, and a stylized portrait of the Madonna on his chest.
You get plenty of chances to see the tattoos during several bare knuckle boxing fight scenes. Sharp=eyed viewers can supposedly see the tattoo get smeary and runny due to sweat in the last fight scene before they suddenly "fix" themselves, so keep an eye out if you like movie gaffs.