The 1981 movie "Tattoo" was a mild thriller, featuring an obsessive loner who falls in love with a fashion model and decides to save her from her life of decadence. Bruce Dern plays Karl, an military veteran who first sees full body tattoos at a festival in Japan while in the service. He gets tattooed himself, and following his return to the States, he becomes a tattoo artist. He lives reclusively and goes to peep shows to relieve his loneliness.

One day, as Karl is finishing an Asian demon on the shoulder of a man, a stylist for a fashion magazine comes into his shop. She wants to hire him to paint temporary tattoos on some models for an upcoming fashion swimmer shoot. Karl is a bit insulted by the idea of temporary tattoos, however, when he finds out his favorite fashion model is going to be part of the shoot, he takes the job.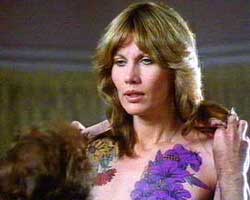 At the photo shoot, Karl finally gets to meet Maddy, portrayed by Maud Adams. She and two other girls are painted by Karl with nautical theme tattoos and they pose with some buff sailors. One girl is wearing a partially topless suit and painted with a dragon design, a very striking and modern look. Karl is nearly overwhelmed by the fast-paced scene he witnesses, but this also serves to feed his obsession. After the shoot, he begins to both court and stalk Maddy.

Karl's growing obsession with saving Maddy and keeping her perfect finally leads him to kidnap her. Her drugs her with chloroform and takes her to his mother's now-deserted, seaside house. While she is still unconscious, he begins tattooing her, to make her "clean" and sacred in his eyes. Maddy is furious and then horrified when she comes to, and discovers the skin art she now wears is permanent.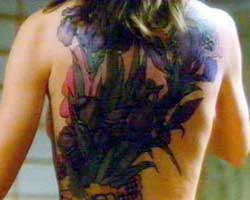 In the movie credits, Fred Blau Jr. is listed as handling the makeup creation, and the tattoo designs were by Isador Seitzer. This was the movie the debuted Temptu tattoo makeup. Primarily alcohol-based, this thin paint will stay on for up to a week, even in water, if cared for properly. When Maddy first sees her body tattoos, she licks her hand and rubs at them, to no effect. It's a great scene because everyone has at sometime licked their fingers and rubbed something off their skin, but usually whatever it is comes off at that point.

The tattoo designs in the movie are very good. Dern's tattooist wears traditional Japanese designs composed into a full body suit. For Maddy, a more cutting-edge body tattoo was designed. The images are Asian in theme, but show some of the first fusion influence that was really going at the time, using Western line weight and coloring.