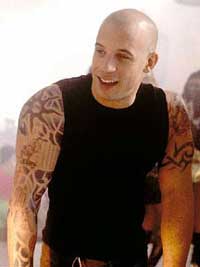 In the action movie "xXx" tattoos are a colorful and frequent presence. In the overlap between the worlds of the international spy and underground extreme sports, it seems nearly everyone sports some form of tattoo. A blend of theatrical experitise mingles with the real deal. For the party scene at Xander's loft that happens at the beginning of the film, most of the background partygoers are actual extreme sportsters and musicians wearing their own ink.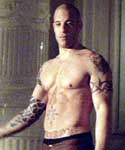 Vin Diesel as Xander Cage, underground sports enthusiast turned secret agent, has tattoos all over his arms, chest and stomach. The detailing is very current and the mixed American-style work with tribal pieces, interweaving bold blackwork with bright colors, is not atypical of a top modern street-sport athlete.
The tattoos designs were a collaboration between the actor, director Rob Cohen, a tattoo designer and makeup artist Christien Tinsley. The tattoos were painted on each morning, a process that took three hours at first but was condensed down to about one and a half with practice. Once they were on the tattoos needed a minimum of touch-ups throughout the day. Xander Cage has a lot of tattoos, including a tribal band with a bull and clouds on his left arm, several "chaos" designs on the right arm with filler designs, another chaos symbol topped with flames on his stomach and a star around his right nipple.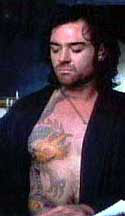 The Russian and Czech bad guys have their fair share of tattooing. Anarchist leader Yorgi, portrayed by Marton Csokas, has an elaborate dragon from his neck down to his hips on one side of his torso, almost in homage to Yakuza-like body tattoos. For most of the movie, only a twisted dragon's claw is visible at the neck of his shirts. However, in one bedroom scene, Yorgi is wearing an open, black satin robe and the full tattoo can be seen. It is a Western-style dragon rendered in full color down the right-hand side ribs without any background shading.
Italian actress/writer/director Asia Argento, who played Yelena, didn't have to spend any time in the makeup chair as far as tattoos were concerned. All of Yelena's skin art is courtesy of Argento's own body art. Most notebly she has a large, elaborate angel inked all across her lower belly and a pair of intertwined snakes on the small of her back along with a few smaller tats scattered across her upper back.