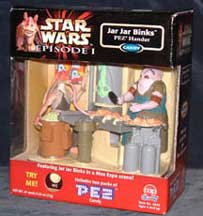 Jar Jar Binks PEZ® Candy Hander
I found this at a kitsch store in Chicago for $5 and then went to SF and saw it for $25. When you push the button, Jar Jar's tongue reaches over and steals a PEZ from the alien vendor, who tries to chop off his tongue or something.
Take your love of PEZ to a place a long time ago, in a galaxy far, far away... Welcome to the World of Star Wars PEZ!